How Balance Transfers Work
If you carry credit card debt, it may cost you a lot of money on the interest. Don't worry. Balance transfer credit cards can help you pay down the debt. You just need to open a new credit card with 0% introductory interest on balance transfers. And then you can request to transfer current credit-card balance to the new card. After that, you can just make the minimum payment each billing cycle to avoid finance charges and pay off all the remaining balance at the end of the introductory period of 0% interest. In this way, a balance transfer credit card helps you save money by reducing the cost of high interest.
Potential Savings by Balance Transfers
How much can you save with a balance transfer card? For instance, take an example that you have a credit card balance of $10,000 with 18% interest. In order to pay it off in 18 months, you will need to pay $640 each month for 18 straight months. Consequently, you will end up with paying interest of approximately $1,480.
With a 0% interest balance-transfer card, you can keep most of the $640 monthly payment in your bank account. And you can pay off the balance 18 months later without paying any interest. Most credit cards charge a one-time service fee for doing a balance transfer. For example, for each qualifying balance transfer, Citi Double Cash Card charges 3% of the transferred balance on transfers made within 4 months of account opening, with a minimum of $5. In order to transfer a balance of 10,000, the transaction will cost about $300 in fees. With about $1,480 in potential interest cost that you saved, you will save approximately $1,180 by using a 0% balance transfer card.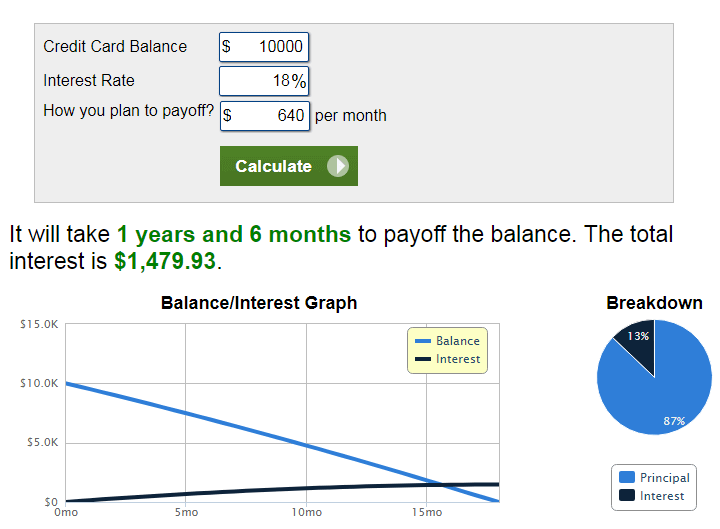 Balance Transfer Credit Cards
Choose from one of the following credit cards that offer 0% on balance transfers for at least 15 months. All these credit cards are for people who have good or excellent credit rating. If you have a credit score of 700 or above, you may qualify for these offers.