Overview
If you are looking for a credit card that is more than just amassing points, you should consider Mastercard® Gold Card™, a premium credit card with unmatched benefits and luxury perks. Plated with 24-karat gold, the Mastercard® Gold Card™ is a very stylish metal credit card. It is a symbol of elite status. It comes with a steep annual fee, but it offers exclusive value that caters to successful business owners and professionals, such as 24/7 concierge services, rich rewards, and all-around exceptional benefits.
24K-Gold-Plated and stainless steel card. Tailored to be an everyday essential. Rewards and protection benefits that are designed to be used everywhere you go, rather than select categories and purchases. Plus, no foreign transaction fees.
Simple and flexible rewards without the hoops. 2% value for airfare redemptions with no blackout dates or seat restrictions. 2% value for cash back redemptions. Earn one point for every one dollar spent. No minimum threshold requirement for cash back or airfare redemptions.
Annual Airline Credit-up to $200 in statement credits toward flight-related purchases including airline tickets, baggage fees, upgrades and more. Just pay for airline purchases with your Mastercard Gold Card and we will automatically apply the credit to your account. That's it. No need to activate or designate an airline.
Up to a $100 application fee credit for the cost of TSA Pre✓® or Global Entry. Also, enjoy automatic enrollment in Priority Pass™ Select with access to 1,300+ airport lounges worldwide with no guest or lounge limits. Includes credits at select airport restaurants for cardholder and one guest.
24/7 Luxury Card Concierge®-available by phone, email, SMS and chat in the app. Around-the-clock service to help you save time and manage tasks big and small. There is no requirement to make a purchase in your requests and no fees are associated with using the concierge's assistance.
Exclusive Luxury Card Travel® benefits-average value of $500 per stay (e.g., resort credits, room upgrades, free wifi, breakfast for two and more) at over 3,000 properties. Plus, peace of mind protection benefits like trip cancellation and interruption, auto rental car collision waiver, travel accident and baggage delay.
Cell phone protection for eligible claims of up to $1,000 each year. Plus additional World Elite Mastercard® benefits.
Annual Fee: $995 ($295 for each Authorized User). Terms and conditions apply.
Intro APR

0% on Balance Transfers made in the first 45 days
Intro APR Period

15 billing cycles
Annual Fee

$995 ($295 for each Authorized User added to the account)
Credit Needed

Very Good to Excellent
Card Benefits
Earn Rewards
You will earn rewards points on every purchase with your Mastercard® Gold Card™ and your points can be redeemed for cash back worth 2% in value. You will earn one point for every one dollar spent. When you redeem points for cash back, you will receive $2 for each point. For example, if you spend $10,000 on purchases, you will earn 10,000 rewards points, redeemable for a $200 bank deposit or statement credit, which is a 2% return of the original $10,000 you spend. Cash back redemption starts at 50 points for $1. There is no limit to the total rewards points you can earn and your points do not expire as long as your account is active.
In addition to cash back redemption, you may opt to redeem points for travel, gift cards or merchandise. To redeem points for travel, such as airfare, hotel and car rentals, you may either book your travel plans online through Loyalty Edge on myluxurycard.com or call the Luxury Card Rewards at (844) 724-2500. You points can be redeemed for airfare worth 2% in value. For example, 10,000 points equates to $200 in airfare redemption. When redeeming for hotel and car rentals, your points are redeemed at a rate of 1%, for example, 10,000 points for $100. When redeeming for gift cards, redemption usually starts at 2,500 points for $25 gift cards, which is at a rate of 1%.
It is best to redeem rewards points for cash back direct deposit into a U.S. bank account or statement credit, because you receive the highest return in value. Although airfare redemption is at the same rate of 2% as cash redemption, cash rewards is always the most convenient and universal form of remuneration. For small business owners who spend thousands of dollars on purchases each month, this credit card can help racking up cash rewards quickly. For example, if you spend $20,000 per month, you will receive $400 cash back each month and $4,800 in cash rewards each year.
$200 Annual Airline Credit
You will receive statement credits of up to $200 each year when you use the card to pay for qualifying airline purchases, such as airfare, baggage fees, lounge access, and in-flight purchases (for example, drinks, refreshments and WIFI access). This is an annual benefit of $200 each calendar year (January 1st through December 31st). The transaction dates of eligible purchases will be used to determine the applicable calendar year. The travel credit will be automatically applied to your card statement. It may take up to two weeks for statement credits to be posted to your account after qualifying airline purchases are made.
$100 Global Entry Application Fee Credit
You will receive a statement credit of $100 when you use the card to pay for the application fee of Global Entry, a travel program administered by US Customs and Border Protection (CBP). Global Entry membership allows international travelers expedited entry upon arrival in the United States. Once approved, Global Entry members can use automated kiosks in most major U.S. airports, rather than having to go through the traditional arrival process. Global Entry membership also includes free access to the TSA Pre✓ program, which provides expedited security screening benefits for flights departing from U.S. airports. Please allow 2-3 weeks for the $100 credit to appear on your statement after you apply for Global Entry.
Global Entry can save travelers 20 to 30 minutes in most airports. Sometimes crowded lines at US customs or airport security check points may cause travelers to miss flights or connections. Global Entry membership helps travelers avoid unnecessary hassle of rescheduling flights in those stressful situations. Global Entry expires 5 years after your next birthday following the date you are approved for the membership. Depending on your approval date and date of birth, your Global Entry membership will be valid for at least 5 years, and sometimes it might be valid for almost 6 years after the approval.
Priority Pass™ Select Benefits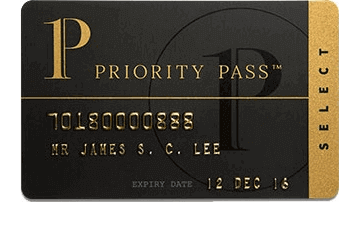 You will automatically receive a complimentary Priority Pass Select membership card within 7–14 business days after your Mastercard® Gold Card™ is opened. Priority Pass Select is a prestigious membership program for travelers to visit airport VIP lounges to relax and enjoy free food, snacks, and WIFI while waiting for flights. The complimentary Priority Pass Select membership provided by Mastercard® Gold Card™ allows you and your travel companions to enjoy unlimited visits to over 1,200 participating airport lounges worldwide. Whether you are a business traveler or an avid vacationer, having unlimited lounge access to VIP airport lounges will be a pleasant experience when you and your companions can enjoy a light meal, sip wine, and relax in comfortable chairs in an exclusive club. Your Priority Pass™ Select membership card will be automatically renewed annually if your account is in good standing.
Priority Pass sells three classes of memberships directly from its website, including Standard, Standard Plus, and Prestige. Among the three memberships, Priority Pass Prestige offers highest level of access, which grants members unlimited access to lounges and allows accompanying guests to visit lounges at a discounted fee of $32 per visit. Priority Pass Select is a fourth class of membership, specially designed for customers who receive their Priority Pass membership through premium travel credit cards. A Priority Pass™ Select membership with Mastercard® Gold Card™ is more compelling than the Priority Pass Prestige membership, which costs $429 annually, because all your guests, including family members or friends on the same itinerary, can visit lounges for free. With the Mastercard® Gold Card™, it is an instant savings of more than $429 in value annually.
Visit prioritypass.com for a complete list of participating lounges. The following is a list of select airports in the United States and Canada with VIP lounges participating in the Priority Pass Select network.
Major U.S. Airports with VIP Lounges Participating in the Priority Pass™ Select Program
Anchorage Airport
(Alaska)
Atlanta Airport
(Georgia )
Baltimore / Washington Airport
(Maryland)
Boston Logan Airport
(Massachusetts)
Charlotte Douglas Airport
(North Carolina)
Chicago O'Hare Airport
(Illinois)
Cincinnati Airport
(Ohio)
Cleveland Hopkins Airport
(Ohio)
Colorado Springs Airport
(Colorado)
Dallas DFW Airport
(Texas)
Denver Airport
(Colorado)
Detroit Metropolitan Wayne County Airport
(Michigan)
Fort Lauderdale Airport
(Florida)
Greenville-Spartanburg Airport
(South Carolina)
Honolulu Airport
(Hawaii)
Houston George Bush Intercontinental Airport
(Texas)
Indianapolis Airport
(Indiana)
Las Vegas Airport
(Nevada)
Lexington Blue Grass Airport
(Kentucky)
Los Angeles LAX Airport
(California)
Miami Airport
(Florida)
Minneapolis / St. Paul Airport
(Minnesota)
Newark Airport
(New Jersey)
New York JFK Airport
(New York)
Orlando Airport
(Florida)
Orlando Sanford Airport
(Florida)
Philadelphia Airport
(Pennsylvania)
Pittsburgh Airport
(Pennsylvania)
Portland Airport
(Oregon)
San Francisco Airport
(California)
San Jose Mineta Airport
(California)
Seattle Sea-Tac Airport
(Washington)
St Louis Lambert Airport
(Missouri)
Syracuse Hancock Airport
(New York)
Tampa Airport
(Florida)
Tucson Airport
(Arizona)
Washington DC Dulles International Airport
(District of Columbia)
Washington DC Ronald Reagan National Airport
(District of Columbia)
Major Airports in Canada with VIP Lounges Participating in the Priority Pass™ Select Program
Edmonton Airport
(Alberta)
Montreal Pierre E. Trudeau Airport
(Quebec)
Quebec Jean Lesage Airport
(Quebec)
Toronto Lester B. Pearson Airport
(Ontario)
Vancouver Airport
(British Columbia)
Winnipeg J.A. Richardson Airport
(Manitoba)
Calgary Airport
(Alberta)
24/7 Luxury Card Concierge™
Luxury Card Concierge transcends concierge services offered by other credit cards. Its comprehensive and complimentary resource is a one-of-a-kind benefit that offers immeasurable value to cardholders of Mastercard® Gold Card™. It is available 24/7 and concierge agents can assist with any and all requests. Cardmembers can choose to communicate via phone, email or live mobile chat using Luxury Card App. Luxury Card Concierge is not limited to just making travel arrangements; concierge agents can get tickets to special events or concerts, conduct general research, book large groups, source specialty gifts and make international reservations. This service is free to use and there is no charge for booking, unlike the competition.
Here are some success stories of how cardholders used Luxury Card Concierge™:
Cardmember requested information on the type of shoes worn by Will Smith and Tommy Lee Jones in the Men in Black films. Within
24 hours, Luxury Card Concierge provided the type of shoes and a listing of local retailers that carried them.
A Cardmember, invited to Guy Fieri's birthday party, did not have time to get a birthday gift before flying in the day of the party. The
Concierge was able to arrange to have a limited-batch bottle of whisky from a local distillery delivered to the Cardmember's hotel
room just in time to bring to the party.
The Concierge was able to arrange a private "meet & greet" after a game with Boston Bruins player Patrice Bergeron, the
Cardmember's all-time favorite player.
A Cardmember wanted to propose to his girlfriend using the JumboTron in New York City's Times Square. He called Luxury Card
Concierge, who was able to accommodate his request within two hours.
A Cardmember, his wife and their 3-year-old son were moving from Kansas City to Denver. Given that their son was going to start
school in two years, the Cardmember asked the Concierge to research the best school districts in the city, which helped them narrow
the search for a new home.
A Luxury Card member was devastated when he left his cash and jewelry in a hotel while in Japan for business. The Concierge
arranged for someone to go to the hotel, pick them up, and had the valuables securely sent to the Cardmember's home.
A Cardmember was standing in a theme park ticket line with five little girls and wanted a way to get into the park quicker than the
anticipated 90 minutes. He called Luxury Card Concierge, who went online and purchased tickets for the group. The Cardmember then
moved over to the Will Call line, which was much shorter, and was able to get into the park much more quickly.
Luxury Card Hotel & Travel Program
Available exclusively to cardholders, Luxury Card's annual Hotel & Travel Program provides both inspiration and benefits based on where affluent tourists travel and stay. Luxury Card offers competitive rates and complimentary benefits with an average total value of $500 per stay at over 3,000 properties around the world. You can enjoy amenities such as room upgrades, complimentary food and beverage, spa credits and more when you book with Luxury Card Travel.
Patented Metal Card Design
Metal credit cards continue to grow in popularity, and the Mastercard® Gold Card™ surpasses the competition. A stainless credit card plated with 24-karat gold, the Mastercard® Gold Card™ has a unique design that is an inspiration of distinguished class.
Fees and Introductory APR
This credit card has no foreign transaction fees, making the Mastercard® Gold Card™ perfect for those who travel outside of the United States. There is an annual fee of $995, which makes the card exclusive to own. But with the all the above benefits, it is an excellent high-end credit card for wealthy individuals who value services and time more than just points.
As an added bonus, new members pay zero interest on qualifying balance transfers for the first 15 billing cycles which is great if you plan on transferring a high-interest balance to the card. After the introductory period ends, the go-to rate of 21.24%, 25.43% or 28.24% applies.
Required Credit Rating
The Mastercard® Gold Card™ is for people with good or excellent credit rating. If your credit score is close to or above 700, you may be qualified for the credit card. Terms and conditions apply.
Is this the right card for you?
If you value services and like hassle-free travel benefits such as top-rated concierge services, airline credit and expedited airport access, exclusive access to airport lounges, no foreign transaction fees, the Mastercard® Gold Card™ is the right card for you. It is one of the best travel credit cards with exclusive benefits available on the market. If you are a big spender and frequent travelers, its rich rewards and travel benefits will outweigh the cost of owning the card.
Similar Premium Credit Cards
If you are interested in the Mastercard® Gold Card™, you may also consider a few other premium credit cards with similar benefits.
Credit Card
Bonus and Rewards
Annual Fee
Citi Premier® Card
60,000 bonus ThankYou Points after you spend $4,000 in purchases within the first 3 months of account opening. Plus, for a limited time, earn a total of 10 ThankYou Points per $1 spent on hotel, car rentals, and attractions (excluding air travel) booked on the Citi Travel portal through June 30, 2024.
3 Points per $1 spent at Gas Stations, Air Travel and Other Hotels
3 Points per $1 spent at Restaurants and Supermarkets
1 Point per $1 spent on all other purchases
$95
Bank of America® Premium Rewards® credit card
Receive 60,000 online bonus points - a $600 value - after you make at least $4,000 in purchases in the first 90 days of account opening.
Unlimited 2 points for every $1 spent on travel and dining purchases and unlimited 1.5 points for every $1 spent on all other purchases. No limit to the points you can earn and your points don't expire as long as your account remains open.
If you're a Bank of America Preferred Rewards member, you can earn 25%-75% more points on every purchase. That means you could earn 2.5-3.5 points on travel and dining purchases and 1.87-2.62 points on all other purchases, for every $1 you spend.
$95
Chase Sapphire Preferred® Card
60,000 bonus points after you spend $4,000 on purchases in the first 3 months from account opening. That's $750 when you redeem through Chase Ultimate Rewards.
Enjoy benefits such as 5x on travel purchased through Chase Ultimate Rewards, 3x on dining, and 2x on all other travel purchases, and $50 annual Ultimate Rewards Hotel Credit, plus more.
$95
American Express® Business Gold Card
Earn 70,000 Membership Rewards points after you spend $10,000 on eligible purchases with the Business Gold Card within the first 3 months of Card Membership.*
4X Membership Rewards points on the 2 categories where your business spends the most each billing cycle from 6 eligible categories. While your top 2 categories may change, you will earn 4X points on the first $150,000 in combined purchases from these categories each calendar year (then 1X thereafter). Only the top 2 categories each billing cycle will count towards the $150,000 cap.
$295 ($375 if application is received on or after 2/1/24)
(fees)
The American Express Blue Business Cash™ Card
$250 statement credit after you make $3,000 in purchases on your Card in your first 3 months.
2% cash back on all eligible purchases on up to $50,000 per calendar year, then 1%. Cash back earned is automatically credited to your statement.
$0
(fees)
Ink Business Cash® Credit Card
$900 bonus cash back after you spend $6,000 on purchases in the first 3 months from account opening
5% cash back on the first $25,000 spent in combined purchases at office supply stores and on internet, cable and phone services each account anniversary year
2% cash back on the first $25,000 spent in combined purchases at gas stations and restaurants each account anniversary year. Earn 1% cash back on all other purchases
$0
The Blue Business® Plus Credit Card from American Express
15,000 Membership Rewards points after you spend $3,000 in eligible purchases on the Card within your first 3 months of Card Membership.
2X Membership Rewards points on everyday business purchases such as office supplies or client dinners. 2X applies to the first $50,000 in purchases per year, 1 point per dollar thereafter.
$0
(fees)
The Business Platinum Card® from American Express
Earn 120,000 Membership Rewards points after you spend $15,000 on eligible purchases with your Card within the first 3 months of Card Membership.
5X Membership Rewards points on flights and prepaid hotels on AmexTravel.com, and 1X points for each dollar you spend on eligible purchases.
1.5X points (that's an extra half point per dollar) on each eligible purchase at US construction material, hardware suppliers, electronic goods retailers, and software & cloud system providers, and shipping providers, as well as on purchases of $5,000 or more everywhere else, on up to $2 million of these purchases per calendar year.
$695
(fees)
Ink Business Preferred® Credit Card
100,000 bonus points after you spend $8,000 on purchases in the first 3 months from account opening. That's $1,000 cash back or $1,250 toward travel when redeemed through Chase Ultimate Rewards
3 points per $1 on the first $150,000 spent on travel and select business categories each account anniversary year. Earn 1 point per $1 on all other purchases
$95
Ink Business Unlimited® Credit Card
$900 bonus cash back after you spend $6,000 on purchases in the first 3 months from account opening
Unlimited 1.5% cash back on every purchase made for your business
$0
Costco Anywhere Visa® Business Card by Citi
4% cash back on eligible gas and EV charging purchases for the first $7,000 per year and then 1% thereafter
3% cash back on restaurants and eligible travel purchases
2% cash back on all other purchases from Costco and Costco.com
1% cash back on all other purchases
$0
The Hilton Honors American Express Business Card
Earn 130,000 Hilton Honors Bonus Points after you spend $3,000 in purchases on the Hilton Honors Business Card within the first three months of Card Membership.
Hilton Honors Bonus Points for each dollar of eligible purchases on your Card: 12X directly with hotels and resorts in the Hilton portfolio, 6X at U.S. gas stations, on U.S. purchases for shipping, on wireless telephone services purchased directly from U.S. service providers, on flights booked directly with airlines or with Amex Travel, on car rentals booked directly from select car rental companies, and at U.S. restaurants, 3X on all other eligible purchases.
$95
(fees)
Marriott Bonvoy Business® American Express® Card
Earn three Free Night Awards after you use your new Card to make $6,000 in eligible purchases within the first 6 months of Card Membership. Redemption level up to 50,000 Marriott Bonvoy points for each bonus Free Night Award, at hotels participating in Marriott Bonvoy. Certain hotels have resort fees.
6x Marriott Bonvoy points on each dollar of eligible purchases at hotels participating in the Marriott Bonvoy program.
$125
(fees)
Bank of America® Travel Rewards credit card
Unlimited 1.5 points per $1 spent on all purchases, with no annual fee and no foreign transaction fees and your points don't expire as long as your account remains open.
25,000 online bonus points after you make at least $1,000 in purchases in the first 90 days of account opening - that can be a $250 statement credit toward travel purchases.
If you're a Bank of America Preferred Rewards member, you can earn 25%-75% more points on every purchase. That means instead of earning an unlimited 1.5 points for every $1, you could earn 1.87-2.62 points for every $1 you spend on purchases.
$0
Costco Anywhere Visa® Card by Citi
4% cash back on eligible gas and EV charging purchases for the first $7,000 per year and then 1% thereafter
3% cash back on restaurants and eligible travel purchases
2% cash back on all other purchases from Costco and Costco.com
1% cash back on all other purchases
$0
Bank of America® Customized Cash Rewards credit card
$200 online cash rewards bonus after you make at least $1,000 in purchases in the first 90 days of account opening.
3% cash back in the category of your choice - now with expanded categories, automatic 2% at grocery stores and wholesale clubs (up to $2,500 in combined choice category/grocery store/wholesale club quarterly purchases) and unlimited 1% on all other purchases.
3% cash back on Gas (to now include Electric Vehicle Charging (EVC) Stations) and Online Shopping (to now include Cable, Streaming, Internet and Phone Services).
If you're a Bank of America Preferred Rewards member, you can earn 25%-75% more cash back on every purchase. That means you could earn 3.75%-5.25% cash back on purchases in your choice category.
$0
Blue Cash Preferred® Card from American Express
$250 statement credit after you spend $3,000 in purchases on your new Card within the first 6 months.
6% Cash Back at U.S. supermarkets on up to $6,000 per year in purchases (then 1%).
6% Cash Back on select U.S. streaming subscriptions.
3% Cash Back at U.S. gas stations.
3% Cash Back on transit (including taxis/rideshare, parking, tolls, trains, buses and more).
1% Cash Back on other purchases.
$0 intro annual fee for the first year, then $95.
(fees)
Blue Cash Everyday® Card from American Express
$200 statement credit after you spend $2,000 in purchases on your new Card within the first 6 months.
3% cash back at U.S. supermarkets, U.S. gas stations, and on U.S. online retail purchases of up to $6,000 per calendar year in purchases in each category, then 1%.
$0
(fees)