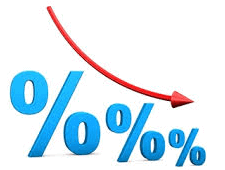 If you carry a monthly balance or you are trying to pay off existing credit debt, making a balance transfer to a low interest credit card can help you get out of debt faster. The  offers  introductory APR on purchases and qualified balance transfers, and charges no balance transfer fees, no annual fees and no foreign transaction fees. That makes it one of the best credit cards to carry everyday.
The Barclaycard Ring Mastercard also includes features exclusive to the Ring credit card, such as its social community that can vote on product changes, transparency in sharing annual reports of Barclaycard Ring revenue and expenses with card members, and the Giveback program, designed as a different type of rewards program that gives a profit sharing percentage back instead of using points to calculate rewards.
– Rates and Fees
0% Intro Interest Rate. The introductory APR on purchases, on qualified balance transfers for an extended months is among the best 0% intro APR offered by any credit card. This, along with no balance transfer fees, makes the one of the best money-saving balance transfer credit cards, especially if you need to transfer a balance to consolidate credit card debt. It is also an ideal go-to credit card to rely on in emergency situations when you need to make a big purchase and are unable to pay it off at the end of the month.
No Balance Transfer Fees and No Annual Fees. Not only there is no annual fees, but there is also no balance transfer fees. Compared with most other credit cards that usually charge 3% or more on balance transfers, the can save you a ton of money if you transfer a large balance.
No Foreign Transaction Fees. A few years ago, the charged a fee of 1% on foreign transactions, but its member community voted to eliminate the foreign transaction fees. This is evidence of the power of the social community – you can vote to kick out the fees you don't like.
Complimentary FICO. The also includes free access to your FICO score, the score used by most lenders to determine your credit worthiness. This score often costs at least $24 per month and is free for card holders.
A rewards program – giveback program. Although its rewards calculation (as described below) is unlike most other rewards cards, you get something back for what you spend (unlike most low-interest credit cards).
– the Unique Giveback Program
In a traditional credit card rewards program, you know how the rewards you earn correlate to each dollar you spend. However, in the Giveback Program of the Barclaycard Ring, Barclaycard examines the performance of the program before determining the value of each dollar as it equates to the Giveback.
Instead of awarding you with cash back or points each time you spend, the Giveback program sets aside a Giveback pool for rewards sharing. The amount you receive from the pool is calculated and based on your statement balance totals during a Giveback period. All of the member totals are added together and then divided by the total number of qualifying statement balances, which is then multiplied by your statement balance total for the period. For example, if your eligible balances during a Giveback period is $10,000 and the Giveback pool has $20,000 rewards for the total eligible balances from all members of $1 million, your reward amount would be $200, calculated as: ($20,000 / $1 million) * $10,000 = $200.
There are other earning opportunities such as the referral bonus of $20 for each new card member referral, which is included in a separate pool. This pool is paid out according to the total referral pool divided by the total number of referral applications.
Should I choose a low interest credit card vs 0% APR credit card?
Although the ongoing interest rate of is not among the lowest, the still holds its advantages in interest rates on purchases and qualified balance transfers for an introductory period of long months, along with no balance transfer fees. In the end, the is a fantastic card that can save you money with its various no-cost features: no annual fee, no balance transfer fee, and no foreign transaction fee. Just some of the many reasons the was voted as the best overseas payments program winner by Card & Payments Awards London in February 2014. If you're looking for a simple 0% APR card, the should definitely be on the top of your list.
Final Words
The features low fees and 0% introductory interest rates with no-fee balance transfers, making it one of the best balance transfer credit cards for debt consolidation. Its no-annual-fee and no-interest rate for an introductory period make it an ideal credit card to keep in the pocket for emergency purchases that you are not able to pay off at the end of the month. It is quite different from most other credit cards because of its unique features such as the social community and its Giveback program.