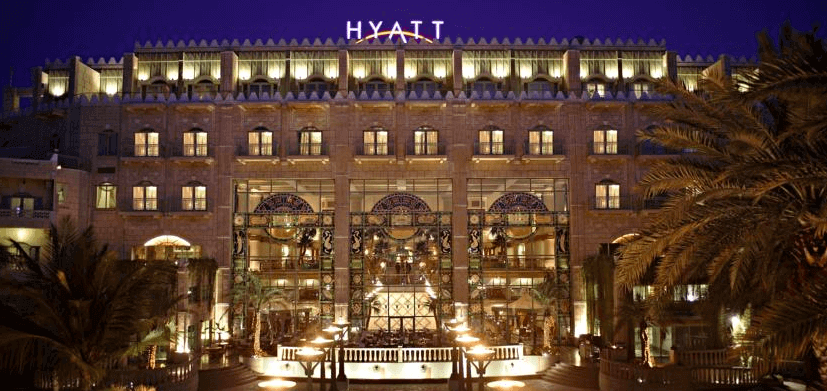 Hyatt Hotels Corporation is an American international hospitality company with widely recognized, industry leading brands, and a tradition of innovation. The Hyatt mission is to provide authentic hospitality by making a difference in the lives of people every day, and by maintaining a unified portfolio in which Hyatt's properties share core values across brands: exceptional guest service, upscale amenities, popular food and beverage programs, and innovative interior designs that incorporate local art and style. Hyatt currently has 10 unique luxurious and upscale brands of various types of services:
Type of Service:
| | |
| --- | --- |
| Full-Service Lodging | Park Hyatt, Andaz Hotels, Grand Hyatt, Hyatt, Hyatt Centric, Hyatt Vacation Resorts |
| Select-Service Lodging | Hyatt Place |
| Extended-Stay Lodging | Hyatt House properties |
| All-inclusive resorts |  Hyatt Zilara, Hyatt Ziva |
Hotel Brand Scales: 
| | |
| --- | --- |
| Luxury | Andaz Hotels, Grand Hyatt, Park Hyatt |
| Upper Upscale | Hyatt, Hyatt Regency |
| Upscale |  Hyatt House, Hyatt Place |
An overview of each brand
Hyatt Regency hotels welcome convention goers, business travelers, and leisure seekers alike. These mid-sized, worldwide hotels are conveniently located in urban, suburban, airport, convention, and vacation destinations. They feature innovative room designs, extensive meeting facilities, and energizing restaurants and bars to ensure that every guest finds the right space to connect to whomever and whatever matters most.
Park Hyatt hotels are mid-sized, luxury hotels located in city-centre and select resort locations designed for the discerning traveler seeking individualized experiences, beautifully designed furnishings, gourmet dining, exceptional spas, while also providing luxurious event and meeting facilities and the latest business amenities.
Hyatt Place hotels combine innovation and modern style with casual hospitality. Hyatt Place hotels provide spacious guest rooms, free Wi-Fi, the 24/7 Gallery Menu, Coffee to Cocktails Bar, and free a.m. Kitchen Skillet™ breakfast with your stay. We provide convenience on the clock, so you never have to settle for any place less than Hyatt Place.
Andaz properties are higher-priced, boutique-styled hotels that emulate the unique personality of each locale. They are dedicated to vibrant living spaces where travelers can indulge in their own personal sense of comfort and style, while soaking in the kaleidoscope of local culture. Andaz has a passion to experience the world through the eyes of the guests, to ignite the creative mind, and to bring eclectic souls together.
Hyatt House hotels are residentially inspired suites that offer upscale home comfort for extended stay guests. Hyatt House is ranked #1 Upscale Extended-Stay Brand by Business Travel News 2012 Hotel Chain Survey. With spacious bedrooms, free Wi-Fi, remote printing, flat panel HDTV's, and more, Hyatt House keeps your home life rolling, so that you're more than just a guest; you're a welcome resident.

Expect nothing but the best at Grand Hyatt hotels, designed with luxurious accommodations and spas, dramatic architecture, exquisite restaurants and bars, and state-of-the art technology. You will find these distinctive hotels in major getaway cities and spectacular resort locations, right in the center of it all. Grand Hyatt will meet and exceed all your needs throughout your stay.

Hyatt Hotels' is to make the most of your stay. These are smaller, full-service hotels of 150-350 rooms, by major business centers. No matter the reason for your visit, you will be surrounded by enthusiastic insiders who delight in sharing the best of what each of our hotels and cities has to offer. Our restaurants are bustling and invigorating; our guest rooms are restful and reviving; and our people are inviting and in-the-know.
Hyatt Centric is the center of the most unique destinations, preparing you to explore the best our cities have to offer. Hyatt Centric guest rooms provide amenities like plush luxurious beds, locally-inspired bath wear and name-brand bath products, knock n' grab handcrafted food and cocktail kits, all with eclectic touches that capture the local vibe.
Hyatt Zilara is the adults-only, all inclusive resort that allows you to explore you surroundings, whether you seek ultimate relaxation in a carefree, sophisticated setting, or a calendar full of activities.

Hyatt Ziva is the all inclusive resort that captures the excitement of a beach vacation. Guests of all ages can enjoy the beauty of local culture, world-class entertainment, and authentic culinary delights during their stay.
Have further questions or comments? Contact Hyatt customer service.