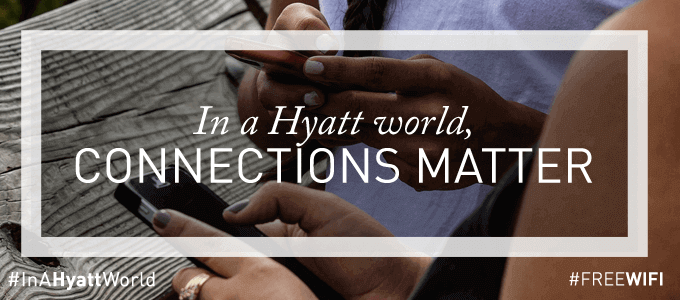 As mobile technology became commonplace, even essential, to all consumers, it also became necessary for hotels to supply a steady internet connection to patrons. Travelers, in particular, rely on their mobile devices and regular access to reliable internet when in transit, whether for business or pleasure. Most major hotel chains charged for WiFi, initially. However, as customers now consider it a basic amenity and sometimes refuse to stay at locations that do not provide it, hotels have begun offering wireless internet free of charge in order to retain customer loyalty.
Hyatt Hotels Corporation, in an effort to keep up with consumer needs, and in response to guests' requests, announced in 2014 that all Hyatt locations would offer free WiFi service to absolutely all patrons in February 2015. While many other major hotel brands only offer complimentary internet access to members of their various loyalty programs, the Hyatt chain's offer is open to everyone.
Previously, many Hyatt hotels have offered free wireless internet to guests and to members of Hyatt's Gold Passport program. The brand has expanded that offer to all locations, and all patrons. In recent years, over 90 percent of Hyatt locations have updated their internet networks to reflect the most recent technology. In doing so, Hyatt is a step ahead of many other major hotel chains.
The Specifics
WiFi is free to all guests, at all locations around the world, as of early 2015. This means over 500 resorts and hotels around the globe will offer complimentary internet access at no extra cost. All internet-enabled devices now have access as part of the hotels' basic amenities. There are no special requirements; patrons do not have to book directly through the Hyatt's affiliated websites, or be a member of any loyalty program.
Hyatt locations that offer premium WiFi service, in addition to the standard, will provide the premium upgrade free to Hyatt Gold Passport Diamond and Platinum members. Other guests have the option to purchase access to the premium internet.
The wireless internet is accessible guests' rooms, dining areas, recreational spaces, and all other frequented parts of the hotel. There is no limit to the amount of devices a person may use when accessing the complimentary WiFi. However, wireless internet access will not be the same in business and conference meeting rooms; the number of guests utilizing the internet in these areas affects bandwidth. For the best internet experience in meetings, the hotel will organize access with patrons and conference coordinators.
To use the internet, guests will log into the network according to each property's individual wireless setup. Patrons should simply inquire about how to do so at the front desk.
About the Hyatt Hotels
Hyatt Hotels are a major hotel brand based in Chicago, Illinois. Their worldwide locations include hotels and resorts such as The Hyatt, Grand Hyatt, Hyatt Regency, Hyatt Place, Hyatt Residences, and more. According to recent information, they have 573 locations on six continents, and in 48 countries. For more information, visit their website or call their customer support.