If you make your credit card payment even one day late, your card issuer will most likely slap you with a late fee, which is typically upwards of $40. You'll also have to pay additional finance charges on the balance, including the fee. Depending on the card issuer, it may be possible to negotiate a waiver of the late fee and finance charges. Knowing what to say to the credit card company can improve your chances of avoiding the extra costs.
Before You Call
Before you contact your credit card company about reversing a late fee or finance charges, make sure your payment has cleared. Don't wait more than a few days, however, since you want to contact the card issuer before they report the late payment to the credit bureaus. Review your records to determine when you opened an account and check to see whether you've ever had any late payments before.
Be Assertive
When you call up the credit card company, be assertive in your request to have the late fees and finance charges removed. When you're making your request, be sure to point out your solid payment history, your overall credit history and how long you've been a customer. If the representative you're speaking to tells you they can't help you, ask to speak to their supervisor. Let them know that the late payment was an accident and you regret the error, then restate your request. Be polite but persistent. If the credit card company won't budge, you may need to consider whether you want to keep the account open. The card issuer may agree to waive the fees in order to keep you as a customer.
Late Payments and Your Credit
Consistently paying your credit card bill late can have a twofold effect on your credit. First, your card issuer is likely to label you as a problem customer and they may be less willing to reverse late fees or finance charges. There's also the possibility that the credit card company could increase your interest rate, lower your credit limit, or close the account altogether.
Having multiple late fees on your credit history can negatively impact your credit score. When your credit score drops because of late payments, it can become more difficult for you to get approved for new credit. Your other card issuers may also decide to increase your APR or lower your limit if they view you as a greater risk because of your credit score.
Success Story
In April 2012, I missed making payments to my Capital One Spark Cash credit card after taking a long-distance flight and being distracted by jet lags. I didn't realize I missed the due date of required payment until a few days later when my credit card was rejected for a purchase because the balance reached credit limit. I then quickly made the payment online. In my April credit card invoice, I was billed a past due fee of $39 and interest charges of $108.02. In the invoice of May, I was billed an overlimit fee of $39 and interest charges of $20.02. The total penalty would be over $200. See the following screen shot of the fees and changes in my two credit-card bills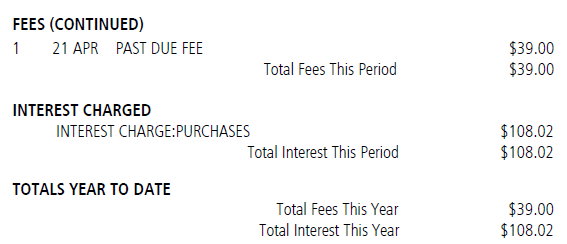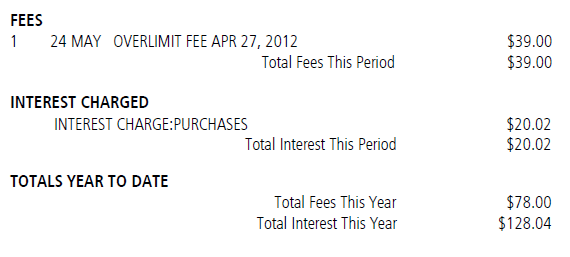 I decided to call Capital One customer services to see if they could kindly reverse the fees and charges. I started the phone conversation by stating that I had been a loyal customer of Capital One and had used Capital One cards as my preferred payment card. I then explained the situation and reassured that I wouldn't make the same mistake again. The representative kindly offered to reverse all the fees. The credit showed up in my June 2012's credit-card bill. To Capital One's credit, its services were great.

Final Word
If you're stuck paying late fees or finance charges just because you missed a payment, you're essentially throwing money away that could be used for something else. While it's always best to pay on time and in full if you can, this is not always possible. If you've been hit with a late fee, don't be afraid to reach out to your credit card company. Chances are, they may be more willing to help than you think.