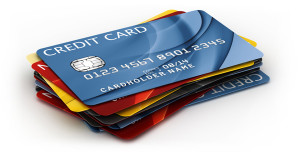 First things first, let's distinguish between a credit account and a credit card. A credit account refers to any account listed on your report, and includes credit cards, as well as mortgages, auto loans, personal loans, etc. A credit card is issued by a financial company giving the user the option to borrow funds, commonly at point of purchase. These cards charge interest and are primarily used for short-term financing.
How many credit cards should I carry?
There is no exact optimal number of open accounts; this will depend entirely on your situation. You should definitely have at least one card for convenience; when you rent a car, rent a hotel, travel abroad, or find yourself needing to cover emergency expenses, having a credit card and a decent monthly credit limit is favorable, especially if you do not have immediate cash in your wallet or money in your debit account to cover a large purchase.
What are the pros and cons of having one credit card?
PROS
Having one card might make it easy to keep track of payments or purchases, as well as watch out for identity theft or fraud.
A single credit card might help to minimize total spending.
One account means only one annual fee, if any.
CONS
Having one card can make it difficult to keep a low credit utilization ratio (amount of debt vs amount of credit available), which is important for maintaining a good credit score.
Some credit card are not accepted everywhere.
You don't have a safety net if this card is stolen or compromised.
What are the pros and cons of having multiple cards?
PROS
Lower credit card utilization/Higher credit score.
Having more than one card allows you to spread out your balances, so you aren't close to hitting the credit limit on one particular account. A higher credit limit also means lower credit card utilization.
Represents your financial accountability. Having many different accounts generally shows that more lenders believe in your ability to repay debt. Having many accounts on your report also helps establish that you have a positive track record of responsible credit behavior.
Prepared for emergencies. If a credit card company freezes or cancels your card because of potential fraudulent activity, you will have at least have a backup card as you wait out the 3-7 days it takes to mail in a new card.
Better Rewards. A greater variety of cards could earn you better rewards. Some cards give higher rewards back for certain purchases, such as groceries and gas, while others give travel points when you travel or dine out. Sometimes, other cards offer special perks, such as buy-one-get-one free movie tickets or auto rental insurance.
CONS
Having a short credit history could hurt your credit score. Don't open new accounts solely to improve your score, because the number of cards you own falls under the smallest weighted category of a credit score: the type of credit you use.
May impact your ability to borrow money. If you have too many cards with high credit limits, a lender might consider, 'What if you ran those credit cards up, what would your debt-to-income ratio be?'
Multiple cards is a hassle. Make sure you can juggle multiple balances and payment dates. Credit card companies can close inactive accounts, which will affect your credit score. If your card has an annual fee, instead of closing the account, consider downgrading to the no-fee version.
Overspending. Having too much credit might trick you into spending more. If you have a high interest rewards card, make sure you don't leave a balance on it, otherwise the rewards you get might not be worth the money you spend on interest.
What is the verdict?
The ideal for most is 3-5 cards, maybe one or two rewards credit cards for everyday use, and another a low-interest card for emergencies. Why not just have one? Because you want to earn rewards from your purchases, but rewards cards tend to have higher interest rates, so you don't want to carry a balance on the card. If you start to use too much of your credit limit per account, you can add a new card, but you could also request to increase the credit limit. Frequent spenders should spread their debt out on 3-5 cards so that you are using under 20% of each card's limit every month.
All in all, what's most important isn't the number of accounts on your credit report, but what you do with them. Before making a financial decision, think about how the number of accounts you have will affect other credit score factors; check your credit report to see how you are doing. In the end, having 20 accounts is no better or worse than having two, as long as you make sure to pay the bills on time and keep your balances low.