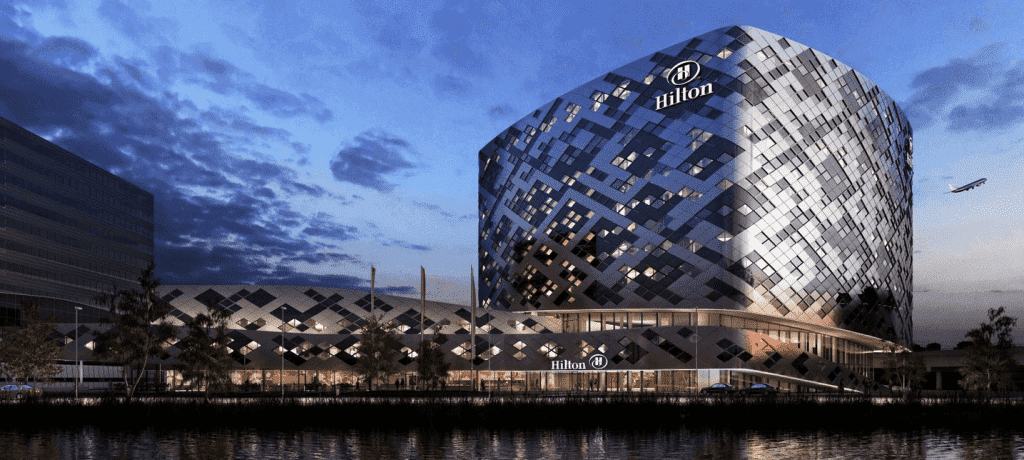 In the nearly 100 years since its founding, Hilton Worldwide has defined the hospitality industry and established an impressive portfolio of 12 brands comprised of over 4,300 hotels and resorts globally. Hilton's full-service hotels serve business and leisure guests alike by providing state-of-the-art meeting facilities, well-appointed accommodations, fine cuisine and an overall higher standard of service. It's no wonder Hilton has 44 million members in Hilton HHonors, its award-winning customer loyalty program. Here are the different hotel brands offered by Hilton:
Luxury
(5-star)
Waldorf Astoria, Conrad
Lifestyle
(upscale)

Canopy
Full Service
(upscale)
Hilton, Curio, DoubleTree, Embassy Suites
Focused Service
(upscale)
Garden Inn, Hampton Inn, Homewood Suites, Home2 Suites
Vacation Ownership
(upper upscale)
Hilton Grand Vacations
An overview of each Hilton hotel brand
Luxury
| | |
| --- | --- |
| | An exceptional destinations around the globe, Waldorf Astoria Hotels & Resorts reflect the culture and history of their locations, as well as modern expressions of Waldorf Astoria's rich legacy. Waldorf Astoria provides guests the exceptional environment and attention of true Waldorf service that creates a singular experience. Experience Waldorf Astoria Hotels & Resorts – each hotel offers guests world-class style and the exquisite accommodations and signature accoutrements that define luxury. |
| | Conrad Hotels & Resorts promises stylish accommodations, seamless service, infinite connections, and value at urban locations and luxury resort destinations. Conrad offers guests one-of-a-kind experiences, service that's intuitive and connections to people and places near or far. This is the destination of a new generation of global travelers for whom life, business, and pleasure seamlessly intersect; travelers who know that the greatest luxury is the luxury of being yourself. |
Lifestyle
| | |
| --- | --- |
| | Canopy by Hilton is all about being local, through design, food and beverage, art and knowledge. No two Canopy hotels are the same, and we know that's what our guests want. For those seeking an energizing experience, Canopy by Hilton is the hotel brand that creates "a positive stay" with its simple, guest-directed service and thoughtful, local choices. |
Full Service
| | |
| --- | --- |
| | One of the most recognized names in the industry, Hilton Hotels & Resorts gifts travelers a world of authentic experiences. The brand continues to be the innovative, forward-thinking global leader of hospitality. With products and services that meet the needs of tomorrow's savvy global travelers, and more than 550 hotels and resorts in nearly 80 countries, Hilton is where the world makes history, closes the deal, toasts special occasions, and gets away from it all. |
| | Curio is a collection of independent, remarkable hotels known for their glorious individuality. Just as the word "curio" can refer to something of interest, unique or even rare, each Curio hotel will be different from the next, hand-picked for its distinct character and personality, and appeal to passionate travelers who are seeking local discovery. |
| | At DoubleTree byHilton™ hotels, every little thing we do adds up to Create A Rewarding Experience for our guests (CARE). Our hospitality starts with a warm chocolate chip cookie upon arrival and continues through the award-winning Hilton HHonors® guest reward program, our Sweet Dreams® by DoubleTree Sleep Experience and our industry-recognized Culture of CARE. |
| | Embassy Suites by Hilton™ anticipates travelers' needs and deliver what matters most. All guests are welcomed with a two-room suite, free made-to-order breakfast each morning, and complimentary drinks* and snacks for two hours every night. Embassy has over 200 unique locations, so come experience all Embassy Suites by Hilton has to offer. |
Focused Service
| | |
| --- | --- |
| | Hilton Garden Inn® is the award-winning, upscale, yet affordable hotel brand allows travelers to discover and connect while on the road. With over 600 locations worldwide, we ensure you'll have a great stay at an even greater value. Garden Inn has a full-service restaurant and bar, offering cooked-to-order breakfast, dinner room service, and a bar to unwind at the end of the day. With state-of-the-art fitness centers, 24/7 Business Centers featuring complimentary printing and Wi-Fi, everything we do, we do for you. |
| | Hampton In by Hilton® is about celebration and diversity – embracing local culture and giving guests a true experience during their stay. Guests experience service backed by an unconditional satisfaction promise, the 100% Hampton® Guarantee, and complimentary amenities like Hampton by Hilton's free, hot breakfast, and free Wi-Fi at 2,000 hotels globally and growing. |
| | Homewood Suites by Hilton™ has spacious one & two bedroom suites equipped with a full kitchen & refrigerator where guests can cook home-like meals without leaving their suite. Breakfast is served daily in the lodge. Additional amenities include free Wi-Fi, business center, fitness center, sport courts, pools, and complimentary grocery shopping service. |
| | Home2 Suites is an innovative mid-scale, all-suite extended stay hotel designed for savvy, sophisticated, cost-conscious travelers staying a few months or a few nights. From Spin2 Cycle, our combined laundry and fitness facility, to expansive community spaces like the Oasis. Roomy suites with kitchen & refrigerator, free breakfast served daily, and a customizable space to work with free wi-fi are Home2 amenities perfect for an extended stay. All with an eco-friendly mindset & outstanding service. Pet-friendly! |
Vacation Ownership
| | |
| --- | --- |
| | With an ever-growing collection of resorts in spectacular settings around the world, Hilton Grand Vacations invites you to experience an innovative, flexible, global club program that sets the stage for a lifetime of unforgettable travels. From residential-style resort accommodations to exclusive travel advantages, Hilton Grand Vacations offers unparalleled Club membership privileges. |
What are the high-end, luxury Hilton hotel brands?
These are five-star quality luxury hotels designed to meet the needs of wealthy travelers with expensive accommodations such as golf, spa, and even casinos in some locations.
What are the budget-oriented Hilton hotel brands?
These brands are known for their superior customer service and comfortable rooms, all for an affordable price.
What are the family-friendly Hilton hotel brands?
The following brands are known for their spacious rooms, as well as cutting-edge technology and amenities.
Have further questions or comments? Contact the Hilton customer service.