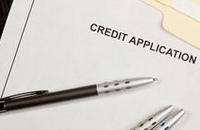 A credit inquiry is a notation whereby a bank or credit-issuing institution requests an individual's credit report to evaluate their "creditworthiness", or likelihood to repay money that is lent to them. There are two types of inquiries: hard inquiries and soft inquiries. Only hard inquiries can negatively affect your credit score, but with responsible actions, your score can easily be recovered.
Hard Inquiry vs. Soft Inquiry
A soft inquiry generally occurs when someone checks your credit report as part of a background check, such as in employer background checks, pre-approved credit card offers, and inquiries where you are checking your own credit. Although soft inquiries can be recorded in your credit report, they will not affect your credit score.
A hard inquiry occurs when a financial institution, such as a lender or credit card issuer, checks your credit report to make a lending decision. This occurs when you apply for an auto loan, credit card, or mortgage. Applications not tied to credit can result in hard inquiry as well, such as a credit check for a new phone or apartment.
How much will a hard inquiry impact my credit score?
In general, credit inquiries have a small impact on one's credit scores. For most, one additional credit inquiry will take at most five points off their FICO Scores. However, they can have greater impact if one has a short credit history or few accounts, or if one has six or more inquiries on their credit report.
Sometimes, multiple inquiries are generated when rate-shopping for a mortgage or a loan, as well as when searching for a rental property such as an apartment, but the FICO®  Scoring consolidates the inquiries of a short shopping-period (14 days or 45 days depending on the model) into one credit inquiry. As long as you are diligent about paying off your monthly balances and using your credit responsibly, your credit score will rebound fairly quickly.
How can I raise my credit score?
Re-establish your credit history. Open new accounts responsibly and pay them on time. The hard inquiry on the new account may drop your score for a few months, but the benefits from opening a new credit account could outweigh the initial drop in your score.
Check your own credit reports regularly to make sure they are accurate and updated, before applying for new credit. If you order your credit reports through organizations authorized to provide credit reports to consumers, your own inquiries will not affect your credit scores.