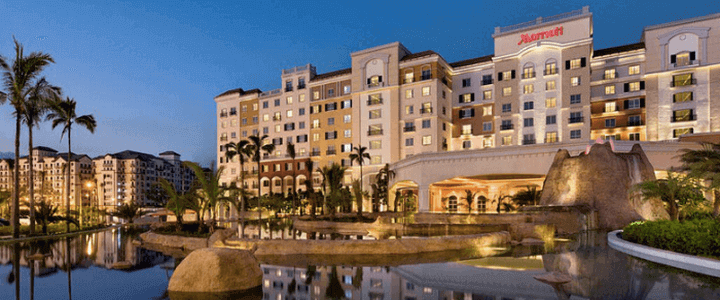 Marriott International is one of the world's leading hospitality companies with more than 4,000 hotels and resorts in over 80 countries and territories. Marriott offers 19 distinctive hotel brands around the globe. From luxurious resorts to urban retreats, bold boutiques to spacious suites, Marriott has a hotel uniquely tailored to your needs. According to the U.S. News & World Report, 22 Marriott's Ritz-Carlton hotels rank among the Best Hotels in the USA 2015. Here are the different hotel brands offered by Marriott:
| | |
| --- | --- |
| Luxury | The Ritz-Carlton, Bulgari, JW Marriott |
| Lifestyle / Collections | Edition, Autograph Collection, Renaissance Hotels, AC Hotels by Marriott, Moxy Hotels |
| Signature | Marriott Hotels, Delta Hotels and Resorts |
| Modern Essentials | Courtyard, Springhill Suites, Fairfield Inn & Suites, Protea Hotels |
| Extended Stay | Residence Inn, TownePlace Suites, Marriott Executive Apartments |
| Destination Entertainment | Gaylord Hotels, Marriott Vacation Club |
How to choose a Marriott hotel?
When you plan a vacation or trip, you need to decide where you will be staying. It is always important to focus on what matters most to you. Do you have a limited budget? Do you value comfort and experience in a luxury setting?
If you are looking for top-quality designs and accommodations with luxurious amenities, you should consider the brands like Ritz-Carlton, JW Marriott, or Renaissance. If you are looking for inexpensive, yet high-quality hotel rooms, you should consider those brands that offer a lot of space for the money, such as Fairfield Inn, TownePlace Suites, Residence Inn, etc.
Most Marriott hotels are 5-star luxury or 4-star upscale hotels. According to STR Global, a company that tracks the hotel industry and uses actual average room rates to analyze hotel chain scales, Marriott's hotel brands generally fall into the following segments:
| | |
| --- | --- |
| Luxury (5-star) | The Ritz-Carlton, Bulgari, JW Marriott, Edition |
| Upper Upscale (4- to 5-star) | Autograph Collection, Renaissance Hotels, Marriott Hotels, Delta Hotels and Resorts, Marriott Executive Apartments, Gaylord Hotels |
| Upscale (4-star) | AC Hotels by Marriott, Courtyard, Springhill Suites, Residence Inn |
| Upper Midscale (3-star) | Fairfield Inn & Suites, Protea Hotels, TownePlace Suites |
An overview of each Marriott hotel brand


With over 80 hotels worldwide, The Ritz-Carlton® inspires life's most meaningful journeys. An enduring symbol of sophistication, style, and superb service, The Ritz-Carlton enjoys a global reputation for setting the gold standards with award-winning luxury hotels, residences, golf communities, elegant spas, innovative retail outlets and acclaimed restaurants.


BVLGARI Hotels & Resorts is a joint venture started in 2001 between Bulgari S.p.A., the celebrated jeweler and luxury goods retailer, and the Luxury Group – a division of Marriott International to offer a contemporary, discriminating collection of luxury hotels in gateway cities and exclusive resort locations around the world. Stunning locations in harmony with the surrounding area, contemporary design, and superior service are the key elements that characterize Bulgari Hotels & Resorts' collection.


With over 70 hotels worldwide, JW Marriott Hotels has evolved to own an enviable niche in the growing luxury tier within Marriott International's vast lodging portfolio. Luxury is experienced through the richness of authenticity, discovered in the beauty of craftsmanship and delivered with an intuitive response to personal expectation. While each hotel infuses local detail into the overall experience, every JW Marriott shares the irreproachable pedigree that makes it worthy of the JW mark.


Created through a partnership between boutique hotel impresario Ian Schrager and the hospitality powerhouse Marriott International, the EDITION brand is becoming the industry's first truly global luxury lifestyle hotel brand. EDITION combines the personal, individualized and unique hotel experience of a world-class boutique hotel with the reach and scale of a global company to deliver an experience that is polished and personable, charismatic and comfortable, and sophisticated while remaining accessible.


With over 80 hotels worldwide, Autograph Collection is an evolving ensemble of strikingly independent hotels. Designed for the independent minded traveler seeking an escape from the predictable, this collection of one-of-a-kind hotels and resorts includes a 15-room boutique fishing lodge in Colorado, a 19th-century neoclassical palace in Prague and a 3,000-room luxury high rise on the Vegas Strip.


Travel should be inspiring, and inspiration is exactly what you'll find at Renaissance Hotels worldwide. Each Renaissance hotel offers a journey of discovery and inspiration. With over 150 hotels worldwide, Renaissance Hotels is a collection of hidden gems – multifaceted and distinguished by beautiful and interesting characteristics – yet united by its common core values: intriguing, indigenous and independent.


AC Hotels by Marriot has over 75 properties located in Spain, Italy, France, Portugal and New Orleans, Louisiana. AC Hotels by Marriott provides innovative spaces of freedom and comfort, with a style that defines the most contemporary hospitality. Sleek, sophisticated European inspired aesthetics bring the culture of the location alive to support hotel guests' experience.


Moxy Hotel is Marriott's newest brand focused on the rapidly growing 3-star-tier segment. The Moxy brand launched in the United States in January 2015, with 8 projects for major metropolitan locations, including New York City, San Francisco, Seattle, New Orleans and Chicago. MOXY's focus is on the millennial traveler, who understands that style can be delivered at attractive prices. MOXY has the potency of style, and innovation and tech savviness. From unexpectedly spacious rooms to a vibrant lobby and a 24-hour café/bar, MOXY offers an experience that is bold, confident and hip.


As the signature brand of Marriott International and with over 500 hotels worldwide, Marriott Hotels is one of the most recognized names in the industry. Building on the brand's longstanding tradition of hospitality excellence, Marriott Hotels continues to evolve with contemporary style and design and innovative approaches to delivering service and amenities. From next gen meeting spaces to tech-enhanced guest service and beyond, Marriott offers 500 locations worldwide to help you connect, relax and recharge — wherever it is your travels take you.


Delta Hotels and Resorts, is a chain of 40 hotels and resorts across Canada, primarily in the 4 star range of standard. It is an upscale full-service brand, offering a lean and flexible operating model and a design that is fresh, clean and intuitive. Delta has a strong reputation and rich history with halo properties in downtown Toronto, Halifax and in unforgettable resort locations, such as Whistler and Banff.


With over 1,000 hotels in 38 countries, Courtyard by Marriott is a leader in upper-moderate tier lodging for business and leisure travel. It maintains its foothold by continuously redefining and leading the upscale hotels. Courtyard is designed for goal-oriented travelers who want more out of each stay. Courtyard surround hotel guests with the right blend of attentive services and inviting spaces so they can enjoy their accomplishments.


SpringHill Suites, an all suites brand spanning over 300 locations across North America, features progressive design in the upper moderate-tier to meet the needs of the new-generation travelers. With modern décor and comforts like great bedding, enhanced food and fitness options, free Wi-Fi, the brand delivers fresh, interesting and stylish hotels that offer the space for guests to relax and enjoy the travel. SpringHill Suites offers guests with a complimentary hot and healthy breakfast. Its hotels' inviting lobbies provide the ideal settings for guests to meet and mingle.
offers discoverable space and inspiring design, all at an affordable price. Connect, work or relax with free Wi-Fi and refreshing spaces that are open and bright


Fairfield Inn & Suites, with over 700 locations across the US, Canada, and Mexico, is an established leader in the moderate-tier segment, offering value and consistency to travelers. Fairfield Inn & Suites appeals to travelers who want to stay balanced. It uniquely supports productivity and well-being with smart spaces, health-conscious options, and a stress-free experience. The brand's outstanding performance in over 25 years of history has been driven by its quality, value and operational excellence.


Protea Hotels, acquired by Marriott in April 2014, is the leading hospitality brand in Africa with over 110 hotels across 7 countries including South Africa, Zambia, Nigeria, Namibia, Ghana and Uganda. Protea Hotels presents a full and diverse range of outstanding hotels, each is uniquely designed with its own personality that offers a unique local experience. Competing in the moderate and upper moderate tier categories, Protea Hotels is ideal for both business and leisure travelers with its collection of seaside resorts, city center hotels, private game lodges and mountain retreats.


With over 675 locations in North America, Residence Inn created and defined the Extended Stay lodging category. The brand is designed to provide everything you need to thrive on long stays. Residence Inn features upscale, spacious suites with full kitchens and room to eat, work and dream. Plus it offers guests with a complimentary hot breakfast, Wi-Fi, evening socials, and grocery delivery service. Its mix of suites types and strong value proportion appeal to both business travelers and family leisure travelers.


With more than 230 locations in the U.S. and Canada, TownePlace Suites is designed for extended stay travelers who want to feel at home and stay productive. It appeals to the guests seeking authenticity, personality and a seamless experience by infusing local flavor into a quiet neighborhood setting, complete with the added comfort, service and quality of an all-suite hotel. It offers extraordinary value, including modern spacious suites with full kitchens and free breakfasts, to travelers who appreciate independence and the space for a relaxed and productive stay.


With its elegantly appointed studios and apartments in cosmopolitan city centers, Marriott Executive Apartments offers a 5-star environment designed to meet the lodging needs of long stays of weeks, months or more by global travelers, especially corporate expats. Apartments are typically located in prime locations in gateway cities in the Middle East, Asia and Africa. With over 20 other urban centers in 16 countries, Marriott Executive Apartments offers the residential comfort of an apartment with the services and luxury amenities of a premier hotel where guests enjoy a gourmet kitchen, on-site fitness center, housekeeping and grocery delivery services.


Known for its impressive scale and flawless customer service, Gaylord Hotels is a collection of 4 hotels and upscale resorts offering diverse convention, entertainment and lifestyle experiences in Nashville, Orlando, Dallas and Washington, D.C. areas. With its trademark "everything in one place" dynamic and majestic glass atrium's with indoor gardens, winding pathways and sparkling waterfalls, Gaylord Hotels appeals not only to meeting planners and conventioneers as spectacular meeting venues, but also to leisure travelers. Hotel guests will discover acres of extraordinary environments that capture the spirit of the region with world-class spas, exciting recreational activities and top-notch entertainment, signature restaurants and bars, as well as magnificent events and décor.


With over 50 properties throughout the United States, Caribbean, Europe, and Asia, Marriott Vacation Club is the primary timeshare brand of Marriott. Designed specifically for unforgettable vacations, Marriott Vacation Club resorts consist of spacious, condominium-style villas with fully equipped kitchens, living/dining areas, separate bedrooms and all the comforts of home. Available for rental or as part of a vacation ownership program, it provides deeded real estate ownership with flexible access to exciting vacation options including resorts, hotels, cruises, guided tours, and experience packages.