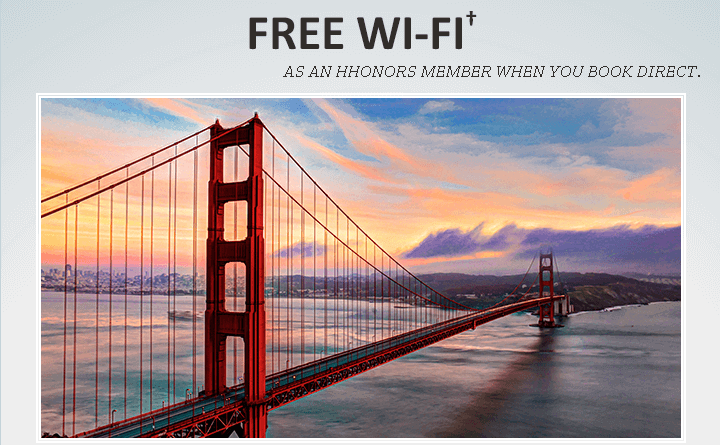 Hotels are steadily feeling the pressure to make the necessary move and offer WiFi free for their patrons. Complimentary WiFi has not long been a standard amenity; until rather recently, most hotels around the world charged for it, and some continue to do so. Many smaller hotels are offering complimentary internet to all clientele, no matter their membership status, or lack of it. Others offer it only to the most elite members of their loyalty programs.
As a result of changing consumer expectations (which consumers expressed to the brand owners), the Hilton hotel chain has begun offering free wireless internet to HHonors members who book their stays directly through the Hilton website, or a travel agency with direct ties to the Hilton brand.
This news follows recent, similar changes at other large hotel chains, including the Hyatt (a brand that offers free WiFi to all patrons), Starwood, and Marriot brands. IHG was the first to begin implementing complimentary WiFi at various levels of its membership program. Hilton is now joining in and adding this essential amenity for HHonors members.
The Details
Diamond members of the HHonors program will receive free premium wireless internet access at all Hilton locations when they reserve their rooms through Hilton, its website, or corporate channels. Complimentary standard internet will be available to Blue and Silver program members who book by the same means. Standard WiFi access has already been free for HHonors Gold members, and will continue to be complimentary. This change, however, does not include hotels requiring resort charges.
How to Qualify
First, patrons need to be members of the HHonors program. It is easy to join; just visit the HHonors website and begin registration. Then, all hotel booking must be done directly via Hilton-affiliated channels. Making reservations through Hilton means utilizing one of many booking methods:
The Hilton website (Hilton.com), or any of the brand's websites
The Hilton mobile application (the Hilton HHonors App), which allows the patron to choose a room, check in, and customize his or her visit
Calling the Hilton hotel directly, Hilton Customer Care, or booking on location
A travel agency or professional who reserves through Hilton and its affiliates
The Benefits
Joining the HHonors program means multiple benefits, in addition to free WiFi access. The Best Price Guarantee makes certain that customers always get the cheapest booking rate. If a patron finds a lower rate anywhere else, Hilton will not only match that rate, but will also give back $50 (with some exceptions under the Terms and Conditions). Members earn points toward free visits to Hilton locations. The program also offers HHonors credit cards through Visa and American Express. Points can be redeemed for special events (such as concerts and special travel), travel miles, and vacation packages. Members with points can shop and dine, gift points to loved ones, donate to charities, and more. HHonors also has regularly updated special offers, such as earning extra points with special purchases and hotel reservations.
Global HHonors members can expect to add WiFi to their program benefits in August of 2015.