Overview
If you are looking for a 0% intro APR credit card, Citi® Diamond Preferred® Card, issued by our partner Citi Cards, is one of the best cards that offer a long introductory period. It lets new cardmembers enjoy 0% introductory APR on purchases for 12 months and on balance transfers for 21 months. In addition, this credit card has no annual fee and low balance transfer fees.
0% Intro APR for 21 months on balance transfers from date of first transfer and 0% Intro APR for 12 months on purchases from date of account opening. After that the variable APR will be 17.24% - 27.99%, based on your creditworthiness. Balance transfers must be completed within 4 months of account opening.
There is a balance transfer fee of either $5 or 5% of the amount of each transfer, whichever is greater
Get free access to your FICO® Score online.
With Citi Entertainment®, get special access to purchase tickets to thousands of events, including concerts, sporting events, dining experiences and more.
Intro APR on Purchases

0% for 12 months on purchases
Intro APR on Transfers

0% for 21 months on qualified balance transfers
Regular APR

17.24% - 27.99% (Variable)
Annual Fee

$0
Card Benefits
0% APR and Fees
The Citi® Diamond Preferred® Card offers 0% APR for 12 months on purchases, 21 months on qualified balance transfers. After the intro period ends, the go-to rate of 17.24% - 27.99% (variable) applies.
When you are short of cash for expensive merchandise or travel, you can take advantage of the 0% interest to pay for purchases now and pay off the balance 12 months later. You just need to make minimum payments shown on your credit-card statements every month to avoid paying any interest or fees during the 12 months of introductory period of card membership.
In addition to allowing you to enjoy 0% interest on purchases, this credit card also lets you have 0% interest on qualifying balance transfers. For example, if you carry a balance on other credit cards, you may transfer the existing balance to your new Citi Diamond Preferred Card. In this way, you can save money by using 0% balance transfer to pay no interest for an additional 21 months.
Fees
Citi Diamond Preferred Card has no annual fee, which makes it free to use as long as you make on-time payments to avoid late fees or interest.
For balance transfer transactions, however, there is a small fee. It charges a one-time transaction fee at 5% of the transferred balance with a minimum of $5, which is among the lowest of all balance-transfer credit cards available in the U.S. market.
For example, if you have a credit card with balance of $12,000 and the interest rate is at 25%, you can sign up for a new Citi Diamond Preferred Card to request a balance transfer to save about $4,650. The potential interest fees on your current credit-card balance is about $5,250 for 21 months. And the transaction fees are $600 to do the balance transfer. Therefore, the net savings is around $4,650. You can use our balance transfer calculator to see how much you can save on balance transfers.
| | |
| --- | --- |
| Potential Interest for 21 months | $5,250.00 |
| Balance Transfer Fee | $600.00 |
| Net Savings | $4,650.00 |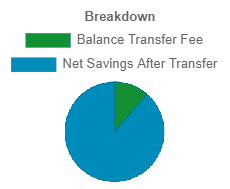 Free FICO Score
Card members of Citi Diamond Preferred Card will enjoy the benefit of having access to their FICO credit scores for free. You can see your FICO credit scores within online banking or mobile banking app.
Required Credit Rating
The Citi Diamond Preferred Card is for people who maintain excellent or good credit ratings.
Is this the right card for you?
If you want to take advantage of 0% APR to save money when you need extra financial assistance, the Citi Diamond Preferred Card is just the perfect card for you. It is among the best 0% interest credit cards with a long introductory period. You can use it to pay 0% interest for making expensive purchases now or for paying off existing credit-card debt. The credit card also has many friendly benefits for its card members, such as no annual fee, a low transaction fee for balance transfers, and free access to FICO credit scores.
Similar 0% Interest Credit Cards
If you are interested in the Citi Diamond Preferred Card, you may also consider a few other credit cards with similar benefits.