<![CDATA[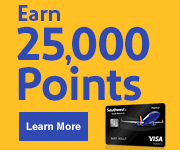 Review of Southwest Airlines Rapid Rewards Premier Credit Card
The Southwest Airlines Rapid Rewards® Premier Credit Card is running a limited-time promotion to offer new customers 50,000 bonus points again. This bonus offer is available to you as long as you have not received a new cardmember bonus for this product in the past 24 months.
The Southwest Airlines Rapid Rewards® Premier Credit Card is an excellent choice for people who is looking to save on domestic travel. The generous rewards structure, the flexible options for redeeming points and the new member bonus let you start earning free flights even faster. This card is one of our Best Airline Credit Cards.
New Member Get 50,000 Bonus Points
The Southwest Airlines Rapid Rewards Premier Card lets you start earning free travel right away. New members are eligible to receive 50,000 bonus points just for spending $2,000 or more in the first 3 months of card membership. These bonus points can be used to book 2 round-trip flights to one of more than 70 Southwest Airlines destinations.
How to Earn Southwest Rapid Rewards Points
You get 2 points per $1 on Southwest Airlines and AirTran Airways purchases when you book your tickets directly through the airline. You also get 2 points per dollar on car rental and hotel reservations made with participating Rapid Rewards partners. For all other purchases, you'll still earn 1 point for every dollar spent.
For every $10,000 you spend, you'll earn 1,500 Tier Qualifying Points, up to a maximum of 15,000 points per year. Once you've accumulated enough points, you'll qualify for A-List status, which means you'll be eligible for Fly-By priority check-in, priority boarding, priority standby and up to a 25% bonus on your base points.
As an added bonus, you also receive 6,000 bonus points every year on your membership anniversary. These points can be redeemed for a $100 Wanna Get Away® Fare to the destination of your choice.
How to Redeem Rapid Rewards Points
Redeeming Rapid Rewards Points for domestic flight is very straight forward
Points are assigned a specific dollar value depending on the type of fare. For example, for a Wanna Get Away Fare (the cheapest fare), 60 points equals $1. If your ticket costs $250, you'll need 250 x 60 = 15,000 points to cover your flight. 1 point worth 1.7 cents. For Anytime Fares (standard fares), 100 points is equal to $1, which means you would need 250 x 100 = 25,000 points to fly for free. 1 point worth 1 cent. For Business Fares, 120 points equals $1. you'll need 250 x 120 = 30,000 points to cover your flight. Obviously, when you redeem points, the wanna get away fare can save you the most.
Please Read How much are Southwest Airline Rapid Rewards Points Worth for more details.
Rapid Rewards Points can also be redeemed for free international flights, hotel stays, rental cars, gift cards
You can use Rapid Reward Points towards over 800 destinations aboard on more than 50 participating airlines. In addition to covering airfare, Rapid Rewards points can also be redeemed for accommodations at more than 70,000 hotels worldwide, rental cars, spa packages, cruises, tickets to special events and gift cards to participating retailers such as Amazon.com, Apple, iTunes, Lowes and Best Buy.
Points don't expire as long as you have flight or Partner earning activity every 24 months. No Blackout Dates and Unlimited Reward Seats apply to flights booked with points.
Rapid Rewards Transfer Points
You can transfer points from your Rapid Rewards account to another Rapid Rewards account. This allows you to share your points with friends or family to help them reach a reward flight sooner.
Fees and Conditions
The Rapid Rewards Premier Card is a great option if you're looking for a low-cost travel rewards card.
Low regular APR and Balance Transfer APR at 15.99% Variable
Your 1 and 2 checked bags are free: Southwest doesn't charge any fees for your first and second checked bags, which means you could easily save up to $120 in bag fees alone.
No change fee: Another special perk of the Rapid Rewards card is the freedom to change flights without being charged a change fee. Most other big U.S. carriers charge a $200 change fee, so this is a real perk for people who want the peace of mind of knowing that they can enjoy greater flexibility with their travel plans.
No Foreign Transaction Fees: If you plan on using your card for international travel, you won't have to worry about paying the foreign transaction fees – that is a 3% savings.
$99 annual fee. You will receive 6,000 points each year after your Cardmember Anniversary, it worth $100 wanna get away fare.
Visa Signature Benefits
The Rapid Rewards Premier Card is a Visa Signature card, which means you'll automatically get access to some premier benefits, including complimentary travel upgrades and 24-hour concierge service. Card members also enjoy free travel protection and rental car insurance as well as 24-hour roadside assistance. You can also use your Visa Signature card to take advantage of online shopping discounts and get exclusive access to tickets for entertainment and sporting events.
Earn 50,000 points after you spend $2,000 on purchases in the first 3 months your account is open.
Points Don't Expire, No Blackout Dates
6,000 points after your Cardmember Anniversary
2 pts/$1 spent on Southwest Airlines® purchases
2 pts/$1 spent on Rapid Rewards Hotel and Car Rental Partner purchases
1 pt/$1 spent on all other purchases
| | | | |
| --- | --- | --- | --- |
| Intro APR | Intro APR Period | Regular APR | Annual Fee |
| N/A | N/A | 15.99% Variable | $99 |
About Southwest Airlines
For decades, Southwest Airlines has been offering affordable flights and superior customer service to travelers in the U.S. Today, Southwest is the country's largest low-fare domestic air carrier, operating more than 3,000 flights per day to 97 destinations in 41 states, as well as the District of Columbia and Puerto Rico. The company's mission revolves around providing the highest quality travel experience and loyal customers can now save even more on flights using the Rapid Rewards Premier Credit Card.

Southwest Airline's top served cities include Chicago-Midway, Las Vegas, Baltimore-Washington, Atlanta, Denver, Phoenix, Houston (Hobby), Dallas (Love Field), Los Angeles (LAX), San Francisco and San Jose.

The post Southwest Airlines Rapid Rewards® Premier Credit Card 50,000 Bonus Points Review appeared first on Credit Cards.

]]>